Automatic doors are so familiar with our lives. You can easily see this type of door in every place such as commercial centers, hospitals, hotels, large stores, supermarkets, residential areas,... Nowadays, construction works are all Love this type of automatic door because of the advantages that the door brings in daily life. There are many different lines and models, through this article we would like to introduce to you the high quality, high quality German brand of automatic doors Metaxdoor.
Advantages of automatic opening doors Metaxdoor
Depending on the door line and different installation projects, the outstanding advantages will also be different. 
Here are some outstanding advantages that create prestige and quality for the brand of Metaxdoor automatic doors:
- First, let's talk about the exterior design, diverse designs. One of the advantages that consumers decide to install doors is because of its luxurious design and easy installation in many projects. This will help your installation locations such as homes or large stores become more luxurious, sophisticated, and aesthetically pleasing. In addition, the materials that make up automatic doors are extremely sturdy, durable, and have a fairly long lifespan, reducing installation costs during use.
- The next thing we will easily know is the convenience in living. With Metaxdoor automatic doors, you do not need to touch or touch the door to open it, but you just need to approach and the door will automatically open. No extension regulations on the number of people coming in and out, not complicated in use, convenient in life. Very useful for the elderly, children, or in carrying luggage, ..
- Not only that, but the security of automatic doors is also very high. Doors are accessible with the assistance of a code from within the property or by remote control. 
Structure of automatic doors Metadoor
Here are the simple components of a Metaxdoor automatic door:
Door controller: the controller usually has a compact design with many smart features and is the control center of the entire system. Can be connected to many different devices to ensure access control such as fingerprint reader, magnetic card, wireless push button installed with door, radar, camera, .. .

Motor: There are two common types used on most automatic doors today: 24v motor and 24v brushless motor (brusless motor) that helps the door to be decelerated thanks to the screw drive and worm gear.

The brushless motor is a great structure that helps the automatic door to work for a long time without damage or overheating. At the same time, there is no need to spend money on changing brushes.

Hanging ears: is an important and indispensable part of automatic doors. Usually there is a picture of each ear hanging 2 wheels or a wheel. There are circular concave or trapezoidal structure designs depending on the design of the rails on each different line.

Belt: is the transmission part of the door, which is connected from the engine through the unloaded pulley and linked to 2 automatic door hangers. Designed with a toothed belt to prevent slipping when operating, the rope is quite durable in sliding and opening the door.

Tracks and automatic doors: with many supports for equipment and doors, helping the rails for the wheels to hang, usually made of aluminum alloy can have stainless steel ribs depending on the design of the customer. type of door that acts as a technical box.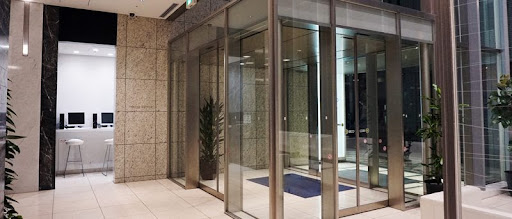 Where is the reputable place to install automatic doors?
Currently, there are many technical installation facilities for Metaxdoor automatic doors, but depending on the technical skills of each installation team, the long-term effectiveness of use varies. 
You have installation needs and requirements for quality as well as safety for the entire use process. Then at cutudonganhkhoa.com We have a team of skilled technicians, with 15 years of experience in high-class projects in Vietnam and civil works, Anh Khoa company believes in prestige, after-sales service, best prices for customers. row. Anh Khoa Company always commits and ensures that products and equipment are always the best choice for customers.