This is a smart door opening and closing line from Italy's Dea brand imported to Vietnam to provide consumers with safe, comfortable, luxurious and sophisticated installation.
Through this article, you can learn more about the features and characteristics of the Dea automatic door line.
What is Dea automatic door opener?
Dea Italy automatic door opener is a civil device that helps to close or open the door automatically without any force to enter the door, bringing usefulness to living more comfortably.
This device is gradually becoming more popular in many construction sites due to its many outstanding features. It has been and is being installed not only in high-class hotels, companies, factories, industrial parks ... but today, this product is popular in both civil and automatic doors. widely used by consumers in many places.
With convenient advantages, saving time and effort, improving the quality of modern life becomes comfortable. Dea automatic doors are always the leading ideal product for today's civil works that you should choose.
Features of automatic door opening Dea
Here are some outstanding features of the Dea automatic door opener:
DEA automatic sliding gate motor is a rack-and-pinion motion system that makes the door open and close with a remote control device without effort.
Conveniently used for the fact that you want to open and close only 1 door, Dea automatic doors can open 1 door to 1 side.
This is a simple and easy to use self-closing door product.
With the mechanical system you can open and close the door in case of power failure.
When you worry about damage to people and objects, this is the perfect choice because of the door's collision feature.
Very good anti-collision safety sensor system of Dea automatic doors.
Also you can control the door by phone. Can check door status. Check details of the door's opening/closing history.
Built-in UPS, so you can save money when using the door.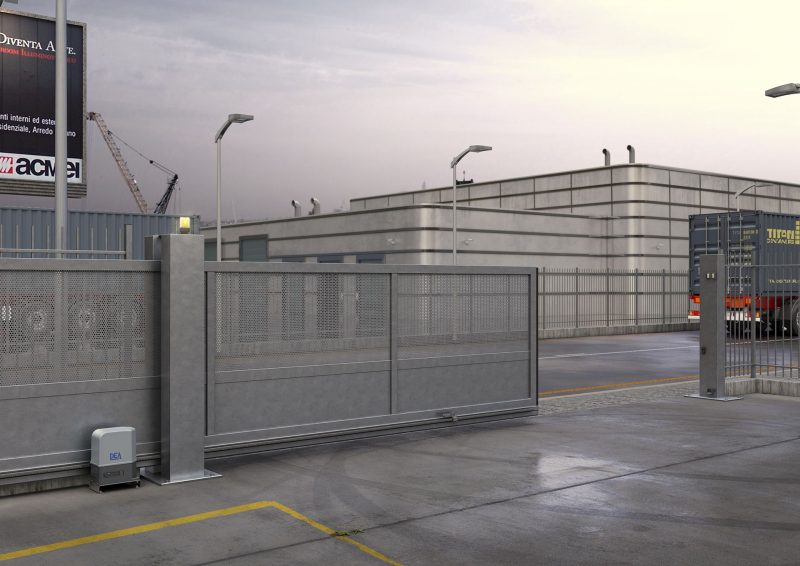 Automatic door structure
DEA automatic floor swing gate opener motor is composed of the following parts: gear, transmission chain, shaft or motor housing are all made from Dea brand homogenous materials, durable and long service life. use even if you require the door to operate with high intensity.
In particular, Dea is the only brand in the market that casts the engine housing from monolithic aluminum (GHOST 100 and GHOST 200 series). This enhances the door's ability to protect the engine from any impact caused by the external environment.
Floor-mounted base box with stainless steel or stainless steel material depending on the line you choose.
The motor body is standard designed with IP67 waterproof feature, extremely durable.
The control circuit system helps the gate automatically open and close DC 24V.
Equally important equipment is the remote control to help open and close the door without effort.
The mechanical lock opens and closes the clutch so you can use the door even at night.
Installing prestigious Dea automatic doors in Ho Chi Minh City
If you are in need of choosing and installing Dea automatic doors, you can refer to details at cutudonganhkhoa.vn. Here we are ready to advise and support you during the process of using services and products of Anh Khoa company. You do not need to worry about the quality of installation because we have a skilled technical team with 15 years of experience in high-class projects in Vietnam and civil works, Anh Khoa company always believes in prestige, after-sales service, best price for customers. We always commit that the products and equipment of Anh Khoa company are always the best choice for all customers.