In the current construction market, automatic sliding doors are always the most popular installation because of the many benefits that sliding doors bring. Not only is it convenient in terms of daily life, but it also makes your installation space more luxurious and sophisticated.
Doortech automatic sliding door series is easy to install in many different constructions and residential areas such as houses, commercial centers, convenience stores, banks, post offices, small supermarkets,... Perfect choice for spaces with narrow doors. Through the article, we hope to help you learn the characteristics and details of the Doortech automatic sliding door line. 
What is Doortech automatic sliding door?
Doortech automatic sliding door is a line of sliding doors specially designed in Japan, being popularly installed in the market. Used by many constructions to install doors at home, supermarkets, convenience stores, offices or rental buildings, etc., especially in places with high traffic, the doors Automatic slide is a perfect choice. Because it is not only highly secure but also completely safe to use.
The intelligent operating principle is based on the automatic eye sensor system. Convenient in daily life, safe to use. On the smart control, it is capable of receiving signals and then sending out a signal when someone approaches, activating the sliding door operation to help open the door automatically when someone enters with the sensor.
Features of Doortech automatic sliding doors
Here are some outstanding features when you use Doortech automatic sliding door line:
When installing automatic sliding doors, you save a lot of time during use, especially you do not need to open the door like other doors, perfect choice for places with high traffic density. 

Safe for residential areas with many children, the elderly, convenient for carrying things, saving time,... Helping to improve your life more convenient and easier.

Dirt, environmental pollution and ambient noise are limited because of the tightness of Doortech automatic sliding doors. The security system is quite high. Limit energy saving, exhaust the air conditioner to the outside.

Can connect with many other sensor systems to increase security such as magnetic cards, fingerprints. This helps control the number of people in and out, easily managing and limiting bad guys and strangers.

Increase the aesthetics of your work, make a difference, more luxurious.

Does not make noise when the sliding door is in operation, smoothly and does not cause discomfort to people. Can be easily applied in many modern life.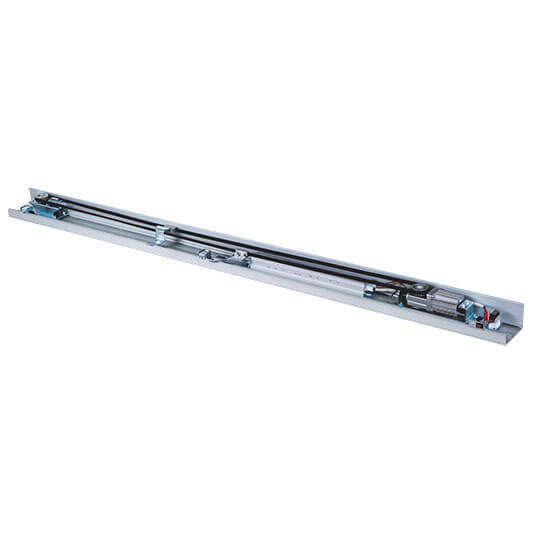 Doortech automatic sliding door structure
1 door system control device

1 motor

1 function receiver and remote control

1 power switch

1 sensor

1 belt

1 belt splicer

1 sliding door stopper

1 set of hangers

1 set of sliding control pulley
Installing Doortech automatic sliding doors in Ho Chi Minh City 
If you have a need to install automatic sliding doors for your project, Doortech is a perfect choice for narrow door spaces. Customers can refer to and choose our cuatudonganhkhoa.com with a team of skilled technicians, over 15 years of experience in high-class projects in Vietnam and all different projects, civil works. Anh Khoa company will bring genuine equipment products, prestige, quality, after-sales and best prices to customers. There are always policies and commitments to bring absolute satisfaction to all customers when using services and products and equipment at Anh Khoa company.