You may come across automatic sliding gate anywhere, especially in big cities. With the feature of integrating modern science and technology along with luxurious design to bring many advantages and save time for users, this type of gate is more and more popular.
Let's learn about the structure and benefits of using the product through the article below!
What is an automatic sliding gate?
Automatic sliding gate is a product in the group of categories automatic gate operates on the mechanism of opening and closing rollers on a sliding rail system installed on the ground. This automatic gate works based on the action of the automatic follower motor.
The operating principle is quite similar to automatic sliding glass doors installed in commercial centers or large buildings. Compared with automatic swing gates, sliding gates have many outstanding advantages.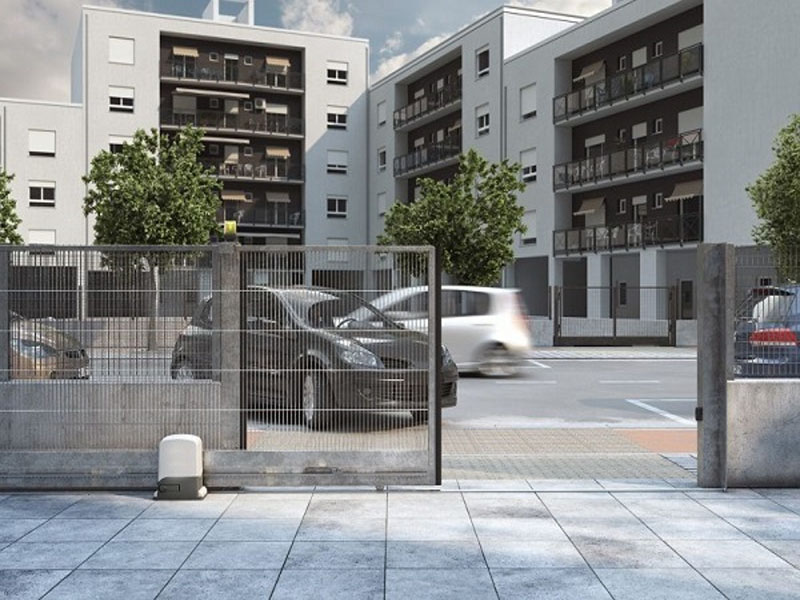 Main structure of automatic sliding gate set
Normally 1 set automatic sliding gate There will be 2 indispensable parts: the motor and the control board, but there will be different designs depending on the structure of the parts. 
The structure of the sliding gate includes the following main parts:
Remote controll
The controller board, also known as the controller, is responsible for processing data quickly. It is capable of connecting with all other parts of the gate, receiving signals and transmitting commands to control the gate opening and closing completely automatically.
Belt
Belts, also known as belts, are divided into two types: steel core belts and umbrella core belts. Because the inside of the belt is placed with high quality sturdy steel stubs, the steel core belt will be more durable.
I block
The part with the stopping point for the gate is the stopper, which will be installed with 4 stoppers at the first 2 points and 2 at the end points at a set of 4-leaf gates. The gate will run a breakpoint detection and stop at the blocked place for the first time after connecting to the power source.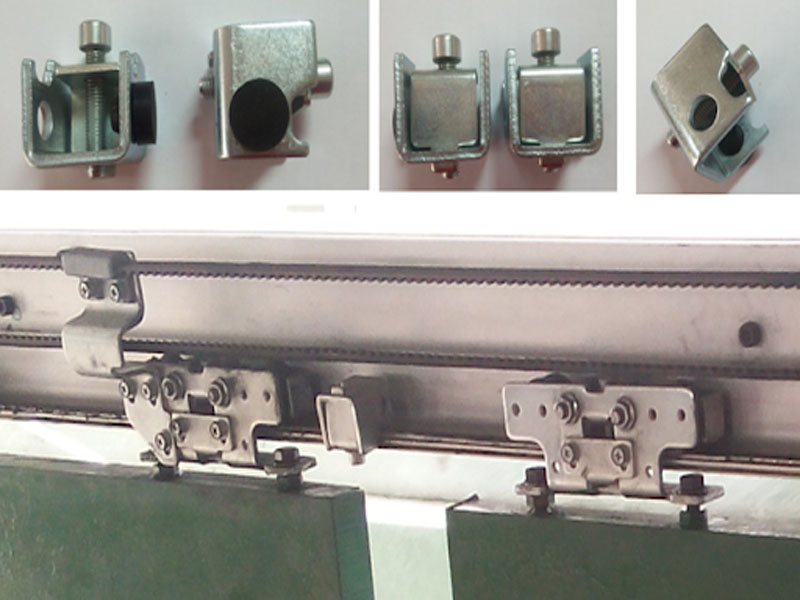 Device Drivers
Normally to self-identify people and open / close the gate, sliding gates will be used automatic gate sensors. However, due to the increasing demand for use today, automatic gates also have many different opening and closing devices such as: remote control, push button or support opening and closing on smartphones.
Aluminum alloy rails
The rail box, also known as the aluminum alloy rail, contains all parts such as: controller, motor, belt, etc. It has a length of 3m to 6m to meet the size for large aisles when used. In use, the rails are used with anti-rust aluminum alloy, so it will take a long time to corrode and damage.
Quality imported automatic sliding gate price list
STT

PRODUCT

Unit

PRICE

1
CHINA AUTOMATIC GATE QUOTATION
The set
Contact

Gate load <150kg/wing

Opening/closing speed: 150-600mm/s

Electric motor: DC 24V/55W . brushless DC motor

Equipment details: Control computer, pulley, belt, electric motor, magic eye, roller, alloy rail, ...

2
TAIWAN AUTOMATIC GATE QUOTATION

The set

Contact

Model: K-2

Load capacity: 100kg (open 2 wings), 120kg (1 wing open)

Clearance: 2.0M – 4.2M . long alloy slide

Model: TH3

Load capacity: 120kg (open 2 wings), 150kg (1 wing open)

Clearance: 2.0M – 4.2M . long alloy slide

Model: Telescope TH-W2

Load capacity: 130kg (opening 2 wings), 90kg (opening sliding 4 wings)

Clearance: 2.0M – 4.5M . long alloy slide

3
GERMANY AUTOMATIC GATE QUOTATION
The set
Contact

Clearance 2.0m – Aluminum alloy sliding rail 4.0m

Clearance 2.0m – Aluminum alloy sliding rail 4.0m
Please contact us by phone number: 0904.587.544 so that the staff can discuss detailed product requirements and quotes. 
Benefits of using automatic sliding gates
Some of the general benefits of using this sliding gate system are:
Automatic sliding gate Can be used for many different fields such as: automatic gates of banks, commercial centers, hospitals, supermarkets, ...
Suitable for places with a lot of people coming in and out, helping to meet high traffic density.

Can be used for environments with many children or the elderly, people with disabilities.

Thanks to the safety sensor, which automatically reverses and is accurate, it is absolutely safe for the user
Specifically, this automatic sliding gate system has the following advantages:
Sliding gate saves space
The advantage of automatic sliding gates is the ability to save optimal space as well as space when using and installing. If you use the door to open the door when opening / closing, it will take up part of the area of the door to sweep to the outside. As for automatic sliding gate only works horizontally, it doesn't take up this area. 
With this advantage, automatic sliding gates can be suitable for small spaces in front of the gate. Using this type of gate makes it easy to move in and out without having to clean up furniture or obstacles when opening the gate. 
Energy saving
The product uses a roller system that makes the force acting on the gate stronger to help the gate open easily. Therefore, the motor to open / close the gate does not consume too much power.
That is why automatic sliding gates are very popular today. It both helps save money on electricity bills and saves space for your home campus compared to conventional gates. 
Quiet operation in the event of a power outage
Other types of gates are usually designed with solid materials, extremely strong and durable, but the downside is that they are too thick and heavy. As a result, they will be extremely heavy to tow during a power outage. Especially for gate systems using conventional hinges, when the power goes out, opening/closing the gate will be extremely difficult and difficult.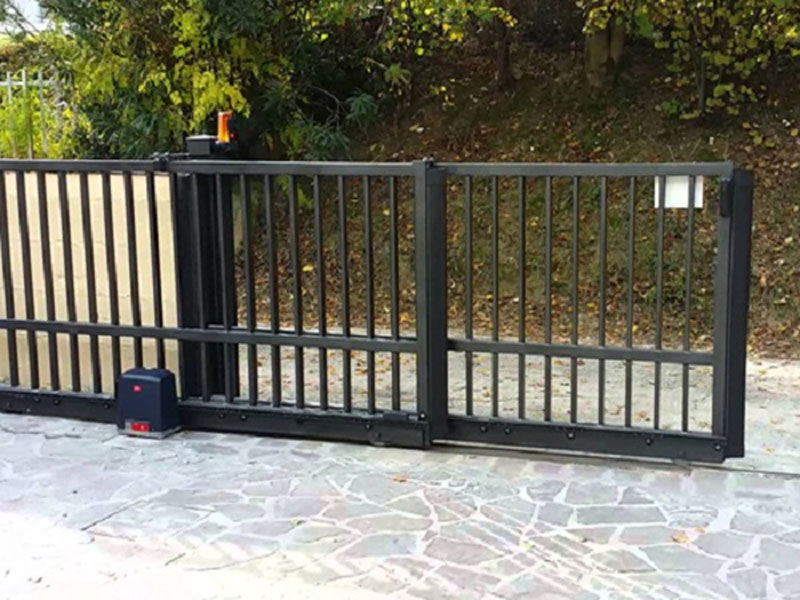 Suggestions for choosing automatic sliding gates for homes and businesses
To choose products In accordance with the needs of use and installation space, you only need to consider a few factors:
Choose automatic sliding gates according to your needs
Currently, on the market, there are many sliding gate systems with different characteristics and operating methods. In there, automatic sliding gate is a type of gate operating with a horizontal sliding mechanism based on rails and wheel rollers, from which it helps to save maximum space for houses with small yards, usually residential areas, townhouses, helping to take advantage of more maximum space. 
However, you should note that this sliding gate requires maintenance in terms of keeping the track clean, with no obstructions to derail the wheel when operating. You can buy an automatic brush to attach to the wheel so that when the gate is up and running, the track will be cleaned up.
Available budget levels
The cost of installing an automatic gate is something that users also need to consider. You need to clearly define your needs and purposes automatic sliding gate. From there, consider the financial ability to pay for the most suitable automatic gate installation. 
Dimensions of the gate installation space
You need to accurately measure the size of the yard, the space to be installed to get the most suitable and satisfactory product options for your architecture.
Causes and solutions of common automatic sliding door errors
Here are the causes and quick solutions to common problems when installing automatic sliding doors:
3 causes of errors when operating automatic sliding gates
Move slowly when closed
In fact, the automatic sliding gate Moving at a slow speed will cause inconvenience and discomfort to users in densely populated places. The main reason is due to:
Unstable voltage

There is friction with the floor or fixed friction

Control signal is too weak
Automatic sliding gate can't open
The wheel has derailed from the track

Connecting liquid glue wire

Sensor error
Stuck while moving
The track is out of alignment or the wheels are not placed in the track is the cause of this phenomenon.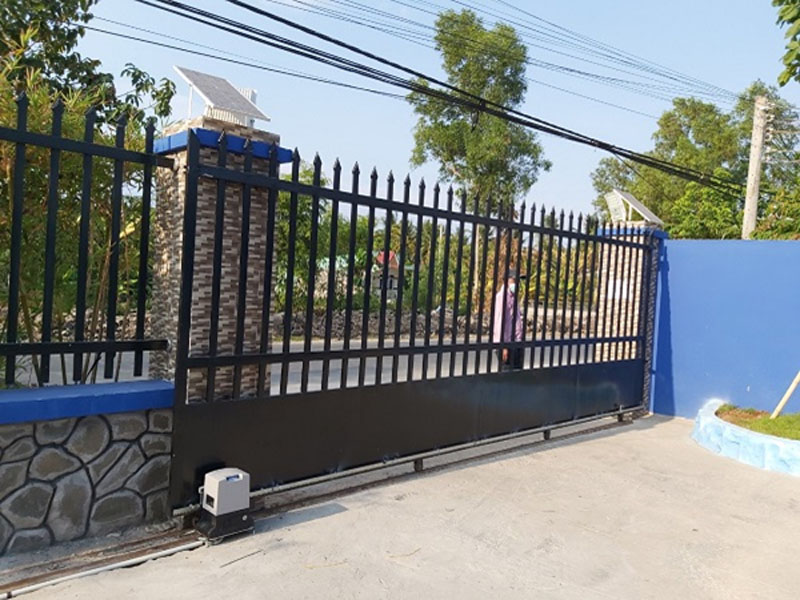 Solutions to overcome errors when using automatic sliding gates
In the process of using any 1 piece of equipment, if it is not properly operated or maintained regularly, there may be more or less mistakes and damage. Automatic sliding gate Also, here are the solutions to minimize damage:
Conduct regular gate inspection and maintenance

Knowledge of efficient and safe gate operation

Choose a reputable gate supplier and the right type of gate
Address providing reputable automatic gates
With a team of skilled technicians who have 15 years of experience in high-class projects in Vietnam and civil works, Anh Khoa company with the main guideline is prestige, after-sales, and the best price for you. Equipment products automatic sliding gate of our company is always the best first choice.
If you have any questions, please contact us for advice at:
Address: 206/22 Dong Den, Ward 14, Tan Binh District, Ho Chi Minh City
Tel: 0904.587.544
Email: anhkhoa.automaticsystem@gmail.com